reImagine Our Town.
reStore. rePurpose. reInvent.
DOWNTOWN PARTY NIGHT
In 2013, Sustainable Initiatives partnered with Crawfordsville Main Street to develop a completely new concept for downtown decorating for the Holiday Season. We helped create the theme, "ReImagine, Our Town" as a means of inspiring community innovation; gathering around the ideas of repurposing and restoring in an environmentally conscious way.
The focal point of ReImagine was "The Lone Pine Tree", located at the Plaza on the corner of Green & Main in downtown Crawfordsville. This sculpture is made of 142 year-old barn wood from Lone Pine Farm; a five-generation Montgomery County institution owned by SI board member, Adam Moody.
Originally, the tree was to be made of discarded pallet wood. However earlier this summer, Adam's son Isaac Moody, had to pull down an old structure on the farm which had become unsafe for use. Isaac offered the timbers to local artist Nina Cunningham for reuse. What's amazing is that he had no idea of plans concerning, "reImagine", nor of the idea for a tree built of repurposed materials.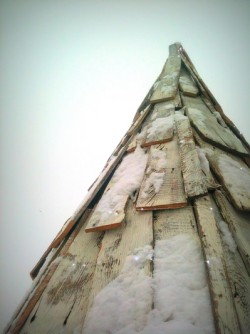 During the sculpture's construction, the scope of our theme took on deeper relevance as the tree came to a local family's legacy and our community's agricultural history. The wood originated from poplars that were growing on the farm's property when Montgomery County was new. Since the first day of its installation, The Lone Pine Tree has been very well received and indications are that it will return to downtown in future years.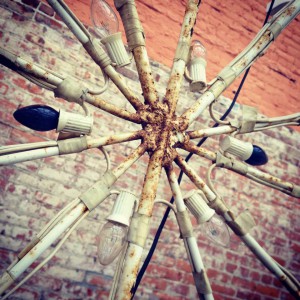 Resource stewardship was another thematic element of "ReImagine" as we incorporated new energy efficient LED holiday lights in nearly every decoration. This was in tandem with the City of Crawfordsville's wise move to purchase new LED snowflake decorations to adorn downtown streetlights. One exception was the team's decision to feature some of the old snowflake fixtures that had been used in Crawfordsville for many years. Instead of scrapping these lovely vintage pieces, nine of them were hung at the Plaza, creating a beautiful and inviting backdrop. The community now has an opportunity to get an up close look at these old friends from Christmases past.
We invite you to visit Crawfordsville to see The Lone Pine Tree and to experience the pleasure of helping to support our downtown's family-owned businesses. You can also take a stroll through our facebook photo album, entitled: "ReImagine, Our Town: Telling the story of a small town decorating crew and how nice things happen". It provides the entire backstory of this project with lovely images that we hope will inspire.