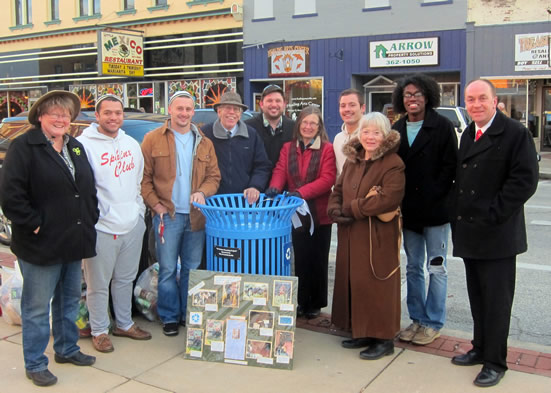 First Launch of the "Ian Hudson Recycling Project" a Success
Sustainable Initiatives three-phase "ReCycle Downtown" project began as a promotion for Crawfordsville's newly adopted Bicycle/Pedestrian plan. Our eye was on culminating the effort with an obvious target – new permanent recycling containers installed downtown for the first time in the city's history. This part of the plan took on greater definition when the decision was made to integrate a legacy into the campaign.
It's been twelve years since the community experienced the untimely loss of young Ian Hudson, yet the memory of his big-hearted service never left us. Though challenged by severe cerebral palsy, Ian had a passion to see public recycling initialized in the county's hub. In 2000, he and his cheerful CHS classmate, Justin Shofner, gathered a small band of volunteers and personally went before the Board of Works, asking permission to gather recyclables from downtown businesses. All before local services were fully available. For two years, material was collected, sorted and transported to Lafayette by that crew. When the son of Drs. Marc & Helen Hudson passed away unexpectedly in Dec '02, the project which was so identified by Ian's bright presence came to an end.
SI began working with Street Commissioner Scott Hesler & Crawfordsville Main Street in 2013 to select the best sites and design for new downtown recycling cans. In October, 2014 SI opened up the "Ian Hudson Recycling Project" as a funding opportunity so people could donate in memory of this young man's community service. Mayor Todd Barton was quick to respond with a generous pledge from the city, Wabash Interfraternity Council, led by Pres Grant Klembara ('15) followed suit with another substantial donation. Crawfordsville Main Street lent their support and SI received a number of private gifts to this special fund.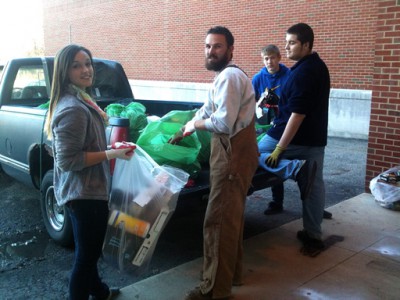 While Indiana-based manufacturer, OCC Outdoors, was processing our order, SI thought it would be helpful to demonstrate just how beneficial street-side recycling cans could be. We asked Crawfordsville High School English Teacher, Ashley Lucas, if his Green Club would like to assist with a survey of downtown waste cans. So early one November morning, Ashley got to work. He helped us collect material from six of the sixteen waste cans. Five large bags were filled. After school Ashley and three sturdy Green Club members hand-sorted all the recyclables from what we collected. When they were done, one big bag of consolidated trash stood next to five bags of recyclables. About 80% of what was once 'trash' was captured. Instead of going into the landfill, it was headed back into the material stream for reuse.
On Friday, November 14, 2014 (just in time to celebrate national "America Recycles Day"), sponsors and friends gathered at the Plaza around Ian's parents and teammate Justin Shofner to unveil the city's lovely new blue recycling containers. Justin was the natural choice for ribbon-cutting, allowing Helen and Marc Hudson to make the first official "deposit". It was a chilly autumn day, but hearts and smiles most definitely warmed all who attended.
The Ian Hudson Recycling Project will be a continuing SI Fund. We know you'd like to see more bins and street containers installed throughout the city. This is one way to help make that happen.
Just click on the "Donate" tab and follow the prompts. Be sure to type in "Ian Hudson Recycling" into the comment box when that opportunity appears. Thanks for helping to rekindle a vision for improved quality of life in our community.